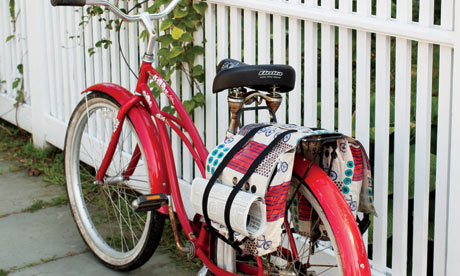 These bags, designed to fit a bicycle's rear rack, are just the thing for cycling storage. The profiled design reduces heel-strike, while the carrying handle allows for easy portability. The straps provide a bit extra carrying capacity; slip in a rolled up newspaper or magazine on your way to a favourite cafe.
WHAT YOU NEED
Download the pattern sheets here
1 yard of 44/45" laminated cotton, oilcloth, vinyl, or similar fabric
1 spool of coordinating thread
3 1/3 yards of 1"- to 1 1/2"-wide webbing
2/3 yard of 1"-wide double-faced Velcro or standard sew-on Velcro
4 parachute buckles of appropriate width to accommodate webbing
Reflective 3M stripe (optional)
Finished dimensions - each pannier bag is 11" high x 11" wide x 5" deep
Seam allowance - 1/2" unless otherwise specified
Design note: this bag is made without a lining because the two panniers take up the entire yard of fabric. A waterproof lining could be added if desired (if using a lightweight material).